Redefine Web3 Data
Information
Generated Condition
Ownership
Non-Fullcontrol Ownership
Data owner can change the access permissions, but the modify of information must according to the definition.
Programmable Data Generation
When users define a new data variable, they can declare the structure and generation function of the variable, and the variable can be used across applications.
Programmable Access Control
Data owners can define any access control rules, such as through NFT, Token, custom logic, etc. Anyone who meets the conditions can read the data.
Migrate Web2 Data
RIDO web3 traditional data through the EAS (Ethereum Attestation Service ). Clarify the ownership of data and give data owners rich access control methods. Provide data trading market to help users monelizate their data.
Cross-application Data Sharing
Low-friction data sharing between applications should also lead to greater composability and a richer application ecosystem than currently available, as data from different applications is stored together under the user's control.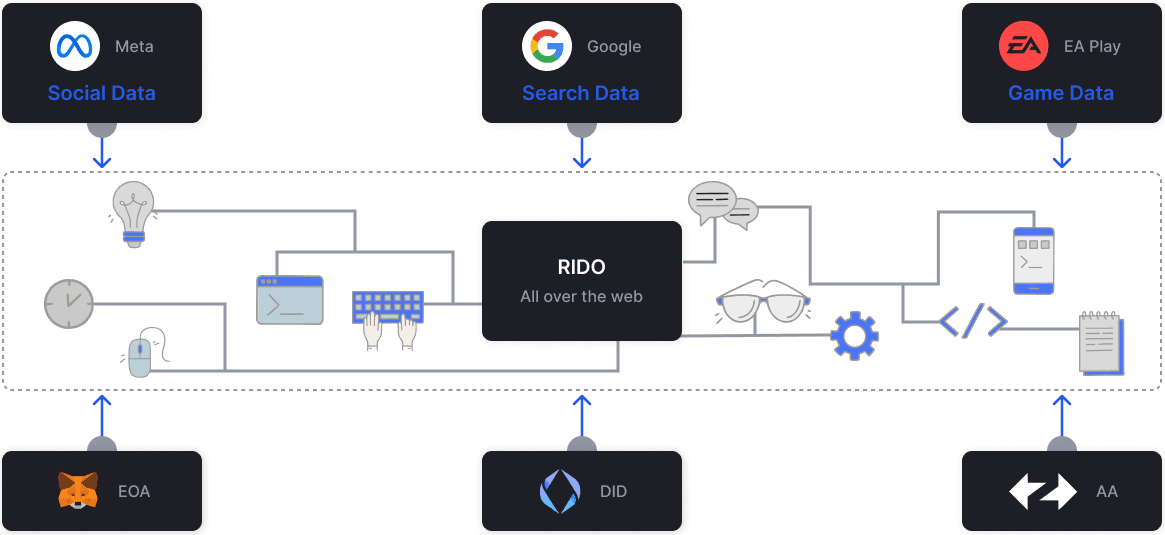 Data Marketplace & DataFi
RIDO constructs a 2-way data marketplace where users can list or offer their data information and ownership. Meanwhile RIDO also proposes a DataFi protocol which promots the flowing of data information and value.
AI SUPPORT:
Decentralized Recommend System
The rights and interests of user data are guaranteed.
Different types of user data can be easily combined to create more value
Balanced by the combined action of Fully-decentralized DAPP&Community/ RIDO/ Recommender systems.
Digital Assistant: Provides a personalized conversational experience based on suggestions based on the user's history and preferences.
Virtual Life: Create fully immersive 3D environments where people can interact with other people and digital objects.
The generated "second life" surviving in RIDO keep their keys to interact with the real world.
Partnership